TAIHEI
TAIHEI MANUFACTURING LTD.
http://www.taihei-mfg.com
High Speed Point Forming Machines, CNC Wire Formers, CNC Mandrel Coiling Machines, CNC Spring End Grinders,etc.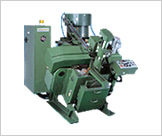 HIGH SPEED POINT FORMERS
Taihei invented the world first dual ram high speed point forming machines in 1974. Very precision and robust finisih warrant years of maintenance-free operation.
For drill point forming of from No. 1 to No. 6 drill point for screws from #4(2.7mm) to 5/16(8mm) sizes. Currently, the following models are available; THP-22L, THP-25L and THP-32L.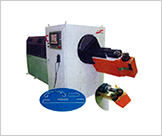 CNC WIRE FORMING MACHINES
AC Servo controlled multi-axis CNC wire forming machines for 2-dimensional and 3-dimensional wire products. Also dual bending head machines are available for bending of very complex shape wire products. For wire diameters from 2mm to 13mm. Also several in-line secondary processing machines are available such as press headers, piercing and coining machines, wire-end thread rolling machines, etc. Currently available models;
TWF-208H-W2, TWF-212H-W2
TWF-608H-W2, TWF-612H-W2
TWF-1108H-W2, etc.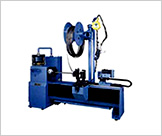 CNC MANDREL COILING MACHINES
Various types of mandrel coiling machines, for cold coiling of springs, from 1mm to 25mm dia. Super Coil TSC-6V 1~6mm spring steel coiling
Super Coil TSD-SEN(AUTO) 3~13mm spring steel coiling
Super Coil TSD-650CAL 5~20mm spring steel coiling
Super Coil TSR-250CSG 7~25mm spring steel coiling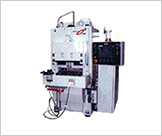 CNC WIRE END GRINDING MACHINES
VG series Single Head, Dual Head to Four Head Vertical Spring End Grinders(dry type).  Also SG series Dual Head Vertical Spring End Grinders(wet type) are available.
VG-450UW, VG-300UW, VG-250UW
VG-450S, VG-300S, VG-250S
VG-760UW-B, VG-660UW-B, VG-610UW-B
SG-25V