SAN-EMU (MMM)
SAN-EMU CORPORATION
http://www.san-emu.com
Tools for cold formed fasteners. Drill Pointing(DP) Dies, Header Punches, Flat Thread Rolling Dies, Trimming Dies, etc.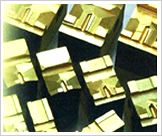 DRILL POINTING DIES
For TAIHEI and various currently marketed High Speed Point Forming Machines.
For all kinds of self drilling screws, From No. 1 to No 6 drill point sizes, for #4(2.7mm) to 5/16(8mm) screws.
Standard Types M, H, D, X, Z and various custom made specials. Also one operation type wing forming/drill pointing dies.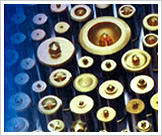 HEADER PUNCHES
Header punches for variety of currently prevailing fastener standards, ANSI, DIN, JIS, ISO, JCIS, Robertson, and also, TORX, TORX-PLUS, etc.
Mostly in one piece design, 12x25mm , 14x25mm, 18x25mm, 23x25mm & 30x25mm or 7/16x1", 9/16x1" and 7/8x1" sizes.  Regular type, ST type(for stainless steel screws) and PVD coated types(GM and GS).
Torx, Torx-plus, Phillips,Pozi Driv, Square, Quadrex,
8-point(Octadrive), Hex, JCIS, and various specials.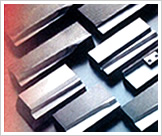 FLAT THREAD ROLLING DIES
All types and standards of cut-thread flat thread rolling dies, for self tapping and self drilling screws to ANSI, DIN, JIS specifications.
  Also many types of special thread dies, such as WSA/WSDL, DWS, HTA, DT(CT), CB, HB, SPDL, ABDL, STT, BTT, PTT dies, etc.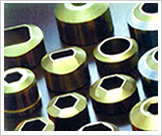 TRIMMING DIES
According to ANSI, DIN, JIS, BS Hex(6H) and SQ(4H)
standards and also special contours. Manufactured by wire EDM to warrant very precision tolerance finish as well as longer die life.
  One piece(solid) type and two piece (nib inserted) type available.